The REIT market showed strong signs of recovery as staggered reopenings occurred across the country in the second quarter, reversing more than half of the losses sustained in the first quarter. The 
FTSE Nareit All REITs Index
, the most comprehensive U.S. REIT Index containing both equity and mREITs, had a total return of 13.96% in the second quarter compared to the 25.42% drop in the first quarter. The FTSE Nareit All Equity REITs Index increased 13.25%, and the FTSE Nareit Mortgage REITs Index rose 37.85%.
"REITs will be well positioned to perform when public health conditions allow for further measures to reopen the economy," said Nareit Senior Economist Calvin Schnure. "The path will be bumpy, however, both for containing the COVID-19 virus, and for businesses, including REITs, operating in this environment. The recent resurgence in infection rates may slow or even partly reverse the reopening process and results we saw in Q2, delaying a more complete recovery in REIT share prices until later this year or next."
Many Sectors Show Signs of Recovery
All but one REIT sector showed gains in total returns in the second quarter. Among the equity REIT 
market segments
, Timber saw the largest quarterly increase (26.68%), followed by Retail (23.27%) and Specialty (19.14%).
FTSE Nareit U.S. Real Estate Index Series
Investment Performance by Property Sector and Subsector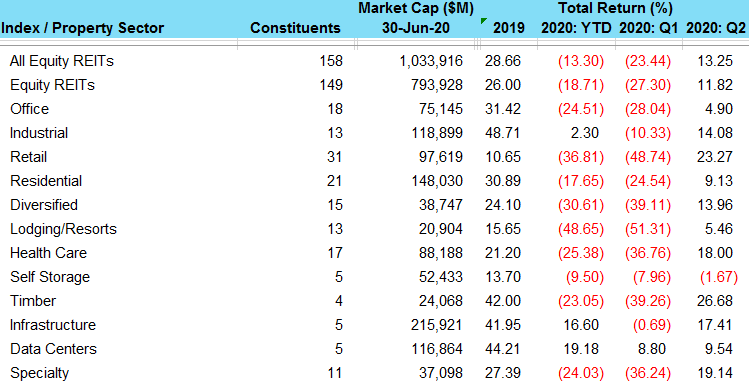 * Source: FTSE, Nareit, FactSet.
Several REIT sectors had gains for the first half of the year. Data centers delivered a total return of 19.18%, and Infrastructure and Industrial had returns of 16.60% and 2.30%, respectively. These sectors provide data communications that support remote work, internet-based communication, and online shopping all made necessary by social distancing.
Dividend Yields Remain Significant
REITs continue to pay a meaningful 
dividend yield
, with the FTSE Nareit All Equity REITs Index reporting a 3.97% yield as of June 30. This is more than double the dividend yield of 1.83% paid by the S&P 500.
The dividend yield of the FTSE Nareit Mortgage REITs Index on June 30 was 11.64%, with Home Financing REITs yielding 12.29% and Commercial Financing REITs yielding 10.47%.
Public Capital Offerings are Down Year Over Year
REITs conducted a total of 62 
offerings 
in Q2, raising $38.8 billion. In comparison, in Q1 2020, REITs conducted 54 that raised $27.3 billion REITs had 54 offerings that raised $24.674 billion Q2 of 2019. The capital raised in the recently completed quarter included $6.12 billion in common shares and $500 million in preferred shares and $24.2 billion in secondary debt offerings.
"REITs have maintained access to both equity and debt capital markets to support their operations during the pandemic. Investor demand for these offerings indicates a vote of confidence in REITs' strong overall financial positions," said Schnure.
The total 
equity market capitalization
 of the 219 REITs in the FTSE Nareit All REITs Index at the end of the quarter was $1.13 trillion, with the 158 REITs in the FTSE Nareit All Equity REITs Index totaling a market capitalization of $1.075 trillion at the end of Q2.
REITs continued to maintain strong 
balance sheets 
with extremely low debt. The debt ratio (total debt divided by total market capitalization) of the FTSE Nareit All Equity REITs Index was 32.3% in Q1.